Please consider how useful NeDi is in your network and how much a commercial alternative would cost. Ensure future development by purchasing NeDi as a service. The following table shows your benefits:
NeDi
NeDi+
Cost (CHF,USD,EUR)
free
starting at 500.–/year
Version
Previous version with maintenance updates
Access to the customer area:

Latest NeDi version
Premium Modules
Tool Library (devtools, iftools)
Add-ons (scripts, sounds)

Support
Community Forum (forum.nedi.ch)

1 Request via Email/Phone
1 additional Request for each additional 1000.–/year (as a guideline)
Simply use Other-Invoices from your NeDi installation to generate an Invoice and submit to your purchasing department. The information for wiretransfer (IBAN/SWIFT or BIC code) can be found on the bottom of it.
Please contact us, if you're interested in becoming a customer by acquiring services, to request a particular support level or if you just need an official offer/order for your purchasing process.
We accept Paypal or Credit-Cards, but prefer wiretransfer in general. Click "Pay with a Credit Card" after supplying amount and email address, if you don't have a Paypal account:
Current Release

nedi-1.7
nebuntu.sh (execute as root on a Debian or Ubuntu machine to automagically install and configure NeDi 1.7
NeDian 17C OVA for Virtualbox or Vmware
NeDi 1.6 Update instructions:
1.Download nedi-1.7C
2.Stop services
3.Update with System-Files -> "Update NeDi (Backup Configuration)":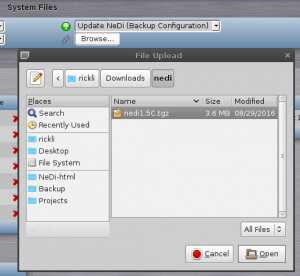 3.Review changes in displayed Readme.txt (can be accessed later via System-Files in the log directory
4.Use System-NeDi to update the DB:

You should see this afterwards:

Adding tables
Modifying tables
DB update from 1.6.100 completed

5.Logout and click reload to see the new default theme
6.Compare new nedi.conf with yours and add new options
7.Start services
8.Have fun with 1.7!
Older Verions
nedi-1.6
nedi-1.5 won't work with PHP7 as it still relies on PHP-mysql
Layer Map
If you don't like those round maps, you might be interested in another approach. Thanks to a faithful NeDi user (raider82 in the forum), you can draw maps based on core, distribution and access layers. It's in an early development state, but it looks quite good already!
Updated:
-block field
-catch error that device was not found
-updated english help and added german help
Install this archive with System-Files -> "Update NeDi (Replace Configuration)". Then add this line in the menu section of nedi.conf:
module Topology LayerMap  mark net

There's a context help, but you may also want to look at the php code to change some defaults…
In addition raider82 also provided a nice sql script to remove undiscovered devices and related information after 14 days. It can be added to cron like this:
0 2 * * * mysql nedi --batch --user=(db -user) --password=(password) < (path to script)/remove_old_dev.sql
Thanks for making NeDi Possible
PSI, Uni NE, ETHZ, SWITCH, ZHAW, Stadt Biel, Netcloud, Peter Silva, Mathias Rufer, Tristan Rhodes, Daniel Contich, Terence Stamp, Chris Brundell, Olivier Ceuppens, Andreas Bellak, regio it aachen, Andreas Kneiseler, Roger Baune, InfraServ GmbH & Co. Wiesbaden KG, Marco Rauchenstein, Duane Walker, Extreme, HP & Nortel Switzerland, Curt from Phoenix, Owen Brotherwood, James Hendricks, Carlos Lakomy, Steve Shapery, Marcel Reuter, Steffen Neuser, SteffenS, Stefan Schaefer, Chris all sponsors and many more!