Please consider how useful NeDi is in your network and how much a commercial alternative would cost. Ensure future development by purchasing NeDi as a service. The following table shows your benefits:
NeDi
NeDi+
Cost
free
starting at 500.– (CHF,USD,EUR) per year
Version
Previous version with maintenance updates
Access to the customer area:

Latest NeDi version
Premium Modules
Tool Library (devtools, iftools)
Add-ons (scripts, sounds)

Support
Community Forum (forum.nedi.ch)

1 Request via Email/Phone
1 additional Request for each additional 1000.–/year (as a guideline)
You can use Other-Invoice from your NeDi installation to generate an Invoice and submit to your purchasing department. The information for wiretransfer (IBAN and SWIFT/BIC code) can be found on the bottom of it.
Please contact us, if you want to buy services, to request a particular support level or if you just need an official offer/order for your purchasing process.
We prefer (international) wiretransfers for payment. They're even free within Europe.
Alternatively you can use Credit-Cards. Choose the amount you want to pay on the custom product or select a predefined subscription level.
Last but not least, Paypal can be used as well
Current Release

nedi-1.8C
nebuntu.sh (execute as root on a Debian or Ubuntu machine to automagically install and configure NeDi 1.8C
NeDian 17C OVA for Virtualbox or Vmware
NeDi 1.7C Update instructions:
1.Download nedi-1.8C
2.Stop services
3.Update with System-Files -> "Update NeDi (Backup Configuration)":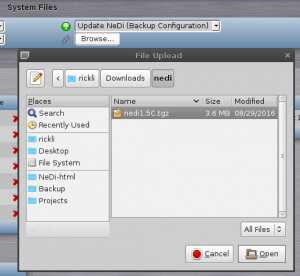 3.Review changes in displayed Readme.txt (can be accessed later via System-Files in the log directory
4.Use System-NeDi to update the DB:

You should see this afterwards:

Adding tables
Modifying tables
DB update from 1.7.090 completed

5.Logout and click reload to see the new default theme
6.Compare new nedi.conf with yours and add new options
7.Start services
8.Have fun with 1.8C!
Older Verions